Re-engineered
switchable hold down
magnets!

The MAGFENCE II™ Universal Magnetic Fence is the fastest, easiest way to add a moveable and adjustable fence to your bandsaw. Since the MAGFENCE II™ attaches to your saw with switchable magnets ( 155 lbs of break away force each), it is readily adjusted and infinitely positionable. You don't even need any hardware or mounts when installing. Simply place in position and switch the magnets to the ON position and you are set. The fence has thin rubber strips on the bottom to make adjustments smooth and simple, they also keep the fence from scratching your table top surface. The unit also features multiple T-slots for attaching any number of accessories like a sub-fence, stops and is compatible with all of Carter's original MAGFENCE™ accessories. The MAGFENCE II™ comes with two switchable magnets ( 155 lbs of break away force each) and measures 15" in length by 3" in height. Additional switchable magnets (sold separately) can be added to the fence for even more holding power

| | | | |
| --- | --- | --- | --- |
| No. | Description | Price | Quantity |
| 3699 | Carter Magfence II | $99.99 | |
| 3144 | 30mm MagJig (1 Extra switchable magnet) | $34.99 | |
5" SWF Sacrificial Fence Only.

Carter MAGFENCE II

Not Included.

The 5" SWF allows you to get the blade much closer to the fence without the fear of damaging your blade or your fence. This extended design gives you a taller face for resaw and larger wood operations.

The face attaches easily at both ends via the existing slots in the MAGFENCE® II face. The SWF is constructed out of ridgid non-warping plastic that will keep it's shape, but will not damage the blade in case of accidental contact. Ideal for sawing super thin veneers or any application where the fence might come in contact with the tooling or blade.

The SWF is designed to fit the Carter MAGFENCE® II product only.

| | | | |
| --- | --- | --- | --- |
| No. | Description | Price | Quantity |
| 4543 | 5" Sacrificial Wear Fence for MAGFENCE II | $24.99 | |
EZ Square Bandsaw Fence

The EZ Square Bandsaw Rip Fence is the perfect aftermarket fence if you're serious about saving time and making straight cuts. The EZ Square Bandsaw Fence was designed to be that dependable piece of equipment in your workshop that you can trust every time you use it. It takes a simple, no-frills approach that gets the job right every time.
The EZ Square Bandsaw Fence fits most bandsaws and some drilling may be required.

T-Slots on the fence top and front and back faces let you mount all sorts of accessories like Board Buddies and Featherboard's.
The EZ Square Fence can be used right or left of the saw blade.
UHMW Face on both left and right faces means super smooth operation.
T-Track mounting of the fence rails means the fence rails can be adjusted to the left or right without re-drilling.

| | | | |
| --- | --- | --- | --- |
| No. | Description | Price | Quantity |
| 1753 | EZ Square Band Saw Fence | $149.99 | |



Bolster your band saw's accuracy with a precision Band saw Fence from Kreg. This fence is adjustable in two dimensions, and sets parallel to the blade with ease. A precision lens cursor reads off the included scale and enhances cutting accuracy and repeatability for high production work. The fence mounts to most 14-inch band saws, including Jet, Delta, General, Grizzly and many others.

Precision lens cursor for pinpoint accuracy
Incredibly strong and rigid for optimal durability and tighter work pieces
Easy to attach and remove for less downtime and more productivity
Adjustable in two dimensions for setting parallel with the blade
Fits most 14-inch band saws for versatility

No.
Description

Price

Quantity

8928

Kreg Precision Band Saw Fence

$107.00

8929

Kreg Bandsaw Resaw Guide

This Resaw Guide easily attaches to our Precision Band Saw Fence, allowing for a higher level of control and accuracy when adjusting for band saw blade drift on-the-fly. The curved face of the guide helps you steer the board into the cut and get the perfect results you're looking for.


$17.99

8930

Kreg Micro Adjuster

Dial-in precise adjustments to your Kreg Precision Router Table or Precision Band Saw Fence – down to .005" – with the simple turn of a thumb wheel.


$14.99



Having a hard time with those oversized, awkward pieces of stock? This unique design will increase the size of your bandsaw table from a standard 14" x 14" table into a 31" x 31" table with out loosing any cutting height. Adding this table to your bandsaw not only gives you more working area for larger projects, it can also be easily removed by unscrewing two knobs. The smooth melamine table sits on a sturdy 14 gauge steel leg base with built in levelers. Each heavy duty leg can be adjusted independently from 36" to 48" to be level with most any factory bandsaw table. A must have for any shop, this oversized table extension will let you cut the largest piece of stock with ease.

The Band Saw Extension Table Features:
• An extra large 31" x 31" table (with table cutout)
• 11/16'' Thick MDF Table
• Smooth Melamine Surface
• Pre-milled Miter Slot
• Sturdy 14 gauge steel stand
• Adjustable Height from 36" to 48"
• Leveling Feet for extra stability

| | | | |
| --- | --- | --- | --- |
| No. | Description | Price | Quantity |
| 3602 | | $159.99 | |
Cut your own wood, veneer
or even bowl blanks with the
Carter Log Mill™
Ever find a piece of wood or a log in your firewood pile that would make a beautiful board or book matched piece of veneer, but you just could not figure out how to cut it. The Carter Log Mill™ is the solution. This log mill lets you slice your own wood, veneer or bowl blanks from just about any rough stock or log you have laying around the shop. This simple design incorporates a steel guide bar that uses your miter slot to give you the maximum height for re-sawing as well as even, straight cuts. The heavy duty steel right angle fence keeps the stock from rolling, allowing you to guide the stock through the blade with ease. Adjust the fence for repetitive cuts or once you square off the log you can set up a fence on your saw and slice as many pieces of veneer the log will yield. With wood prices going through the roof, the Carter Log Mill™ will stretch your woodworking dollars by turning that log you were going to burn into your next project
| | | | |
| --- | --- | --- | --- |
| No. | Description | Price | Quantity |
| 3721 | | $139.99 | |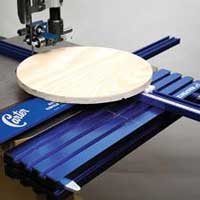 The Carter AccuRight™ Circle Cutting Jig quickly and easily attaches to almost any band saw, allowing you to cut perfect circles every time. Cut any diameter circle up to four feet, when used with proper external support. The AccuRight® Center Master™ (sold separately) Blank Creation System makes it possible to easily and consistently cut and mount circular lathe blanks using the Carter Circle Cutter.





Features:
Attaches quickly and easily with Carter MAGFENCE™ (optional extra) (See Above)
Can be used without the MAGFENCE™ with the included universal attachment bracket
Allows cutting of circles up to 4+ Feet diameter with proper external support (user provided)
No drilling or external mounts necessary
Easy to read radius measurements for precise circle size
Circle thickness only limited by the saw's resaw capacity
Installs and removes quickly for limited downtime
Compatible with any size Carter MAGFENCE™
For use with any blade guide, full block or bearing, (not for use with the Stabilizer™).
| | | | |
| --- | --- | --- | --- |
| No. | Description | Price | Quantity |
| 3718 | Carter AccuRight™ Circle Cutter | $74.99 | |

The AccuRight® Center Master™ Blank Creation System makes it possible to easily and consistently cut and mount circular lathe blanks (for bowl turning, hollow form projects, etc.) using the Carter Circle Cutter (sold separately above ). The device allows even thick pieces of wood to be cut into round blanks and makes it possible to mount these blanks precisely centered onto a lathe faceplate, thus minimizing vibration and getting your project off to a quick and safe start. Precisely cutting the blank also allows you to keep scrap to a minimum and use larger scraps of valuable wood for additional projects. The ACCURIGHT® Center Master consists of two parts: a wide sliding pivot plate for use with the ACCURIGHT® Circle Cutter (sold separately); and the Center Master™ faceplate adaptor mounting jig to ensure perfect centering of the finished blank. The Center Master™ is thread specific so make sure you order the correct size for your faceplate.

No.
Description

Price

Quantity

3728

1" x 8 tpi AccuRight® FCP-1-8 Center Master™
Blank Creation System


$39.99

3729

1-1/4" x 8 tpi AccuRight®FCP-2-8 Center Master™
Blank Creation System


$39.99
For improved finish and blade performance. Lay the side of the wood handle on the table surface and place the silicon carbide stone against the back of the blade to round off the edges and correct any weld misalignment. No lubricant needed.

Blade Finishing Stone Advantages: permits tighter radius cutting, smooth's off uneven welds, prevents excessive wear on thrust bearings, provides a smoother finish on the work piece during radius cutting and removes mushrooming on back of blade caused by pressure against thrust bearings.

| | | | |
| --- | --- | --- | --- |
| No. | Description | Price | Quantity |
| 1746 | Band Saw Finishing Stone | $9.99 | |



Saw Blade Lubricant prolongs blade life and produces smoother and quicker cuts. Wax stick is specially formulated to keep metal, plastic, and wood cutting blades from clogging because of chips or pitch. For use on all power and hand held cutting tools including scroll, band, circular, hack and jewelers saw blades. Lubricant Stick measures 8" long x 1" in diameter.

| | | | |
| --- | --- | --- | --- |
| No. | Description | Price | Quantity |
| 1747 | Olson Band Saw Blade Lubricant | $6.99 | |



Delta, Jet, Imports and Shopsmith

Bandsaw zero clearance inserts reduce splintering and tear out on your stock pieces. The inserts also prevent small pieces from falling down in between your blade and the lower wheel which prevents kick-backs. The inserts are designed to replace your old worn out stock insert. Perfect for scroll work, small delicate pieces, or woods that are prone to tearing out.

| | | | |
| --- | --- | --- | --- |
| No. | Description | Price | Quantity |
| 1749 | 2-1/2" x 1-3/4" Inserts for 12",14" and 18" Jet models | $7.99 | |
| 1750 | 2-1/2" x 2-3/16" Inserts for 14" Delta, Imports and Shopsmith | $7.99 | |

Powermatic and Rikon Bandsaws

Bandsaw zero clearance inserts reduce splintering and tear out on your stock pieces. The inserts also prevent small pieces from falling down in between your blade and the lower wheel which prevents kick-backs. The inserts are designed to replace your old worn out stock insert. Perfect for scroll work, small delicate pieces, or woods that are prone to tearing out.

| | | | |
| --- | --- | --- | --- |
| No. | Description | Price | Quantity |
| 2112 | Powermatic Bandsaws 2-3/4" dia. x 11/64" thick 3 pack | $10.99 | |
| 2113 | Rikon Bandsaws 2-3/4" dia. x 3/16" thick 3 pack | $10.99 | |



The Accu-Right® bandsaw zero clearance inserts reduce splintering and tea rout on your stock pieces. The inserts also prevent small pieces from falling down in between your blade and the lower wheel. The Accu-Right® inserts are designed to replace your old worn out stock insert. Perfect for scroll work, small delicate pieces, or woods that are prone to tearing out.

| | | | |
| --- | --- | --- | --- |
| No. | Description | Price | Quantity |
| 3701 | Accu-Right® Zero Clearance Delta Bandsaw Inserts 3 pack | $9.95 | |
| 3702 | Accu-Right® Zero Clearance Jet Bandsaw Inserts 3 pack | $9.95 | |



We offer two versions of the foot pedal switch. The first pedal is the standard on/off foot pedal switch, which works by clicking the pedal with your to foot to turn the power, click again to turn the power off. Second, is the dead man switch, which activates the power when you hold the pedal down with your foot (power shuts off when you release). Both foot pedal switches are 15 amps and both are equipped with a heavy duty 6- 1/2 foot long,3 prong grounded power cord.


| | | | |
| --- | --- | --- | --- |
| No. | Description | Price | Quantity |
| 1301 | Dead Man Foot Switch | $25.99 | |
| 1302 | Standard On/Off Foot Switch | $29.99 | |



Our bandsaw tension spring replacement provides, superior strength, excellent durability. The coil assists will assist you
in properly tensioning larger blades and to give superior tracking over the stock spring that comes with most saws. The tensioning spring will fit most 14" band saws.


| | | | |
| --- | --- | --- | --- |
| No. | Description | Price | Quantity |
| 1751 | Bandsaw Tensioning Spring | $14.99 | |


Using large bandsaw blade sizes - is your bandsaw not performing up to standard or do you simply just want to tune your bandsaw up? Then the heavy duty Carter Cobra Coil™ Replacement Spring may be your answer. The Cobra Coil™ is a direct replacement for most 14" bandsaws tension spring. The Cobra Coil™ offers greater durability than the factory installed springs and the coils superior strength allows you to use larger (wider) bandsaw blades that require more tension that is not available with stock springs. The Cobra Coil™ will produce over 10,000 PSI of blade tension even on machines equipped with riser blocks. It is simple to install and it fits 14" Jet, 14" Delta, 14" General, 14" Ridgid, 14" Reliant, 14" Grizzly, 14" Powermatic, 14" Sears Contractor and the Cobra Coil™ fits most import 14" blade tensioning devices.

| | | | |
| --- | --- | --- | --- |
| No. | Description | Price | Quantity |
| 3703 | Carter Cobra Coil™ Bandsaw Tension Spring | $19.99 | |


Blade guides are made from a high tech, nonmetallic composite material, Graphite Impregnated Phenol ic Laminate, which contains three synthetic dry lubricants that lubricate the blade but do not make it oily. The metal to metal contact made by old metal guide blocks creates heat and friction which cause premature blade wear and breakage. These problems are eliminated with blade guides which allow blades to run cooler and last longer with less friction. Match your current block sizes to one of the guide blocks listed below for proper fit.


1737

Contains:
3 guide blocks 1/2" x 1/2" x 3/4" and 1 guide block 1/2" x 3/8" x 1"

$15.99

For Sears 12" Tilting Table Band Saws, Skill 10", HD3640, and Dremel 10" 1120.

1738

Contains:


4 guide blocks 3/8" x 3/8" x 3/4"

$15.99

1739

Contains:


2 guide blocks 3/8" x 3/8" x 1" and 2 guide blocks 3/8" x 1/4" x 1 1/2"

$15.99

For most 14" Band Saws (including Sears Craftsman 14", Jet, Grizzly, Ridgid, etc.) .

1740

Contains:


4 guide blocks 1/2 " x 1/2 " x 3/4"

$15.99

For 14",16" and 18" imported Band Saws using 12mm (.472") round guides.

1741

Contains:


4 guide blocks 12mm (.472") dia. x 3/4"

$15.99

For Delta 10" 28-140, 16" 28-560 3wheel, and 12" 28-190 Band Saws.

1742

Contains:


4 guide blocks 5/16" square x 3/4"

$15.99

Round guides for 8" Delta 28-180 & 28-185 and 10" 3 wheel Bench top Saw Including: Delta 28-160 and 28-180 8" 2 wheel, Sears, K-Mart, Ohio Forge, ProTech, Builder's Square. Most saw taking 56 1/8" blades.

1743

Contains:

4 guide blocks 3/16"dia. x 3/4"

$15.99

For 9" 2 Wheel Band Saw such as Ryobi, Black & Decker, Sears Craftsman. Protech, Tradesman, and Collins, etc.

Contains:


2 guide blocks 13/64" square x 13/16" and 2 guide blocks 13/64 square x 1"

$15.99

For Sears Craftsman 12" Tilt-Head

4 Slotted Guide Blocks 3/8" x 3/8" x 1-1/16"

$15.99

Low Quantity,
Call for Availability




These tires will be running on your band saw long after rubber ones have literally turned to dust. They do not dry out, therefore, they will not crack, peel, or harden like rubber tires do. They hold so tightly to the wheel you won't need to glue them down either. Colored bright, safety orange for easier inspection. Be sure to follow label instructions for best performance and ease of installation. Tires come in pairs.


No.

Description

Price

Quantity

1730

1/2" width x 9" Dia. Urethane Band Saw Tire 2 pack

$34.99

1756

3 Urethane Tire Set for 16" Delta 28-560
Contains 3 Tires (1 each 1" x 10" & 2 each 1" x 7)"

$39.99

1758

3/4" width x 10" Dia. Urethane Tire 2 pack

$34.99

1759

1" width x 10" Dia. Urethane Tire 2 pack

$34.99

1760

3/4" width x 11" Dia. Urethane Tire 2 pack

$34.99

1761

3/4" width x 12" Dia. Urethane Tire 2 pack

$34.99

1762

7/8" width x 12" Dia. Urethane Tire 2 pack

$34.99

1764

1" width x 14" Dia. Urethane Tire 2 pack

$34.99

1765

1 1/4 " width x 14" Dia. Urethane Tire 2 pack

$34.99

1766

1 1/4 " width x 16" Dia. Urethane Tire 2 pack

$34.99

1767

1 1/2" width x 18" Dia. Urethane Tire 2 pack

$39.99

1768

1 1/2" width x 20 " Dia. Urethane Tire 2 pack

$44.99
Carter Band Saw Tires are made from the highest quality material to exacting standards. That's why they deliver such outstanding performance and wear consistently for so long. Tires are available in a variety of sizes to fit most popular bandsaws. All tires come with complete, detailed instructions to facilitate proper installation.

Our exclusive Carter Ultra Blue Urethane Tires provide even greater durability and resistance to damage and allow for optimum blade tracking. These tires provide superior strength and are generally installed without adhesive bonding being required. Simplified installation procedures permit the saw to be returned to service sooner after installation.

| | | | |
| --- | --- | --- | --- |
| 3706 | 1 ea Carter 10" Ultra Blue Tire 7/8" wide x 3/32" thick | $20.99 | |
| 3707 | 1 ea Carter 12" Ultra Blue Tire 7/8" wide x 3/32" thick | $25.99 | |
| 3708 | 1 ea Carter 14" Ultra Blue Tire 7/8" wide x 3/32" thick | $30.99 | |
| 3709 | 1 ea Carter 16" Ultra Blue Tire 1-1/2" wide x 3/32" thick | $39.99 | |
| 3710 | 1 ea Carter 18" Ultra Blue Tire 1-1/2" wide x 3/32" thick | $42.99 | |
| 3711 | 1 ea Carter 20" Ultra Blue Tire 1-1/2" wide x 3/32" thick | $43.99 | |



The Clean sweep™ helps keep your tires free from debris which shorten their life and effect blade tracking. As debris; saw dust, metal on metalworking saws, or any other debris accumulates on the tire, continued use without cleaning compresses the tire more in other places then if it were in contact with the rubber or urethane alone. Over time the tire will loose its rebound in those places if not cleaned properly and thus decrease tire life. (Currently only offered for 14" saws)

| | | | |
| --- | --- | --- | --- |
| No. | Description | Price | Quantity |
| 3700 | | $6.95 | |



Install our bandsaw tension crank to adjust your blades to just the right tension as recommended. Make fine adjustments to your blade before use, and release the tension after your done cutting to prolong the life your bandsaw blade. The bandsaw tension crank does not work with band saws that are already outfitted with factory tension cranks. Fits most 14" models including Delta and Jet 12" and most import models.


| | | | |
| --- | --- | --- | --- |
| No. | Description | Price | Quantity |
| 1769 | | $14.99 | |



The Ratchet-Rod Kit replaces the original threaded rod and nut of the bandsaw with an ACME-threaded rod and nut, for easy rotation, and includes a contoured ratcheting knob for quick and comfortable rotation. Inside the knob is a ratchet mechanism with a tiny flip lever that reverses the drive direction just like a socket wrench. Once the rod and nut are installed, tightening or loosening your blade is quick and easy. Even more ingenious, you can pop off the knob and snap on a 3/8" drive torque wrench to check your blade tension right off the torque wrench, which gives you repeatable blade tension results every time.

| | | | |
| --- | --- | --- | --- |
| No. | Description | Price | Quantity |
| 3705 | Carter Accuright Ratchet-Rod Tension Adjuster | $49.95 | |



Instantly relieve tension to prevent damage to the tire and prolong the life of the blade and saw. Pre-tensions blade slightly during blade change for easier adjustment. Installs in just minutes, all installation hardware provided with the unit. Allows fine tuning of blade tension through use of the screw control. Available for the General 14", Jet 14", Delta 14", Rigid 14", Grizzly 14" and Sears Contractor 14" bandsaws. Can be used with blades from 1/8" to 3/4".

| | | | |
| --- | --- | --- | --- |
| No. | Description | Price | Quantity |
| 3704 | Carter Bandsaw Tension Quick Release | $159.00 | |



Olson's Cutting Tool Lube will simply improve the performance and life of cutting tools
from router bits to band saw blades to drill bits to planer
blades to table saw blades, by simply lubricating the cutting
edge of any of those particular blades. Olson's cutting tool
lube contains no silicon or petroleum oils (won't harm the
finish.) Bottle includes pump sprayer and dropper tip. 8 oz.
bottle.


| | | | |
| --- | --- | --- | --- |
| No. | Description | Price | Quantity |
| 1748 | Olson's Cutting Tool Lube 8 oz. bottle | $8.99 | |



This 75 Watt (maximum) magnetic base light holds firmly to most any machine. The light has three fully functional joints for complete maneuverability and adjustability, plus a fourth joint that rotates the lamp head a full 360°. It has a 5 ft. long cord and plug. Light bulb is not included in the package.

| | | | |
| --- | --- | --- | --- |
| No. | Description | Price | Quantity |
| | Magnetic Base Light | | |
The Limber Light™ is a small cable free LED task light with a magnetic base. This light can be placed anywhere you need additional work light for your tools. The Limber Light™ comes with batteries pre-installed and as a bonus the next battery change is on us as we include extra batteries with every unit.

| | | | |
| --- | --- | --- | --- |
| No. | Description | Price | Quantity |
| 3722 | | $14.99 | |



Simply replace your scroll saw blade with a scroll sander and you can sand your project as easily as you cut it. Eliminates time consuming hand sanding and gives beautiful, smooth results. Sands internal cuts and evens out corners and turns. Removes cutting and burn marks. Also removes feathering on the bottom of your scroll saw projects.

| | | | |
| --- | --- | --- | --- |
| No. | Description | Price | Quantity |
| 1341 | | $7.99 | |
| 1342 | 1/2" Pinnless Combo 4 Pack | $7.99 | |
| 1343 | 1/4" Pinned Combo 4 Pack | $7.99 | |
| 1344 | 1/4" Pinnless Combo 4 Pack | $7.99 | |