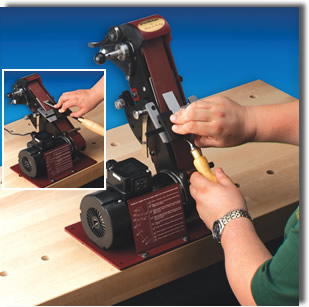 Central to the ProEdge is an abrasive belt which is a quick and efficient method of putting a keen edge on each and every tool. The cool running belt avoids any overheating. The ProEdge comes complete with aluminum oxide and zirconium belts with a selection of sizes in those materials and ceramic also available.
Belts are the only parts that need to be replaced and can be purchased at a minimal cost.
The system comes with an angle setter which allows the user to accurately locate most of the common sharpening angles required by woodworkers. However, the user can easily set his own angle if he wishes to move away from any of these common pre-set angles - 15, 20, 25, 30, 35, 45, 60, 80 and 90 degrees.
The angle setter ensures that the same angle can be achieved accurately time after time. There is no complex setting up involved. In fact, the ProEdge can be used straight out of the box.
The ProEdge is ideal for those who need to sharpen carving tools, bench chisels, framing chisels, turning tools, plane irons, router bits, garden tools and much more.