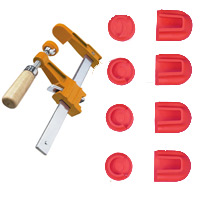 Bar Clamp Not Included
These soft, durable, plastic pads provide a resilient, protective cushion when clamping wood, metal and plastic surfaces. Non-mar, non-stick, non-slip pads can be adjusted and removed quickly. Recommended for use with with hard or soft woods.

Fits bar clamps with 3/4" round clamping pad, with 3/4" wide clamp jaw.