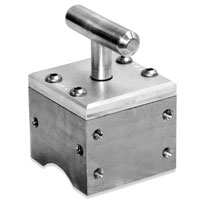 Imagine a strong clamp that turns on in an instant, wont damage the wood surface, and mounts anywhere on a steel table...well, its a reality with Magswitch general purpose Mag-Square. Use Mag-Squares as guides or positional stops for work-holding. The Mag-Square is more versatile than clamps, faster and easier to use! Simply twist knob on or off to apply or release super strong magnetic grip.
The Mag-Squares feature:
Pre-tapped mounting holes on all 4 sides for mounting tools or jig fixtures: #10-32 threads on the 30mm model and 1/4"-20 thread on the 50mm.
90 degree corners for squaring.
Extremely powerful – up to 550-lb breakaway force on flat ¼-inch steel
Simple and fast workholding
Grips on three sides
Unlike competitive brands, when the Magswitch is off, it easily allows debris to fall away
Precise positioning
Holds on flat or round surfaces
Fast, super-strong and easy to use
An innovative breakthrough in magnetic technology that provides powerful control
No need for tedious clamping
Locking handle
Use MagSquares to mount workholding jigs
Pre-tapped holes (M6) on all sides for mounting
Never before has a super-strong permanent magnet been so easy to control
Magswitch has created a powerful magnetic device that can be turned on and off with a simple half turn of a knob
No batteries
No electricity
Every woodworker knows that multi purpose work holding tools are handy, and application challenges arise in tool set ups, jigs and fixtures. Mag-Squares offer flexibility in quick connect, disconnect, strong hold, squaring, precise positioning, and mounting versatility.