Smooth, Lightweight, Compact, Powerful and Adjustable are just a few of the words  that can be used to describe the CEROS sander. The CEROS is half the size of traditional electric sanders, but it has Twice The Power! At the same time, it runs smoother with less vibration, which in turn produces less arm fatigue after prolonged use. The unit is built around a brushless DC motor (transformer included) that enables the CEROS to run smooth and quiet (68 db) and in turn is maintenance free. Available in both 5" and 6" models it incorporates standard backing pads with a 5/16" threaded mount. Multi-hole backing pads with standard hook and loop attachment allows you to use most any type of hook and loop sandpaper disc. The unit also features variable speed control from 4,000 to 10,000 rpm that can be adjusted on the fly or prior to using the sander. The CEROS sander and it's unique, practical features just may become the most used tool in your shop.

Performance:

Excellent power-to-weight ratio
Constant speed even under load
Adjustable speed up to 10,00 RPM

Compared to others hand sanders:

Half the size of traditional sanders
Twice the power of traditional sanders
One hand operation = less fatigue
Low profile for optimal control

Durability:

Brushless DC Motor promotes longer life
Solid construction stand up to daily use
Backed by 3 year manufacturers Warranty

Features:

Quiet Operation at 68 db
Soft start for smooth operation (less vibration)
Dual Mode Throttle (on/off or variable speed)
Electric brake
(considerably reduces rundown time)
Central Vac ready -for dust free sanding
(Hose not Included)

Includes:

CEROS sander with integrated 12' cord
DC transformer and easy link power cord
Multi-hole backup pad and wrench
User manual and quick start guide DVD
Storage Container for easy transport
10 pack assortment of abranet disc

Item#
Description
Price
Quantity
9968

3" Mirka Ceros Sander

$395.00
9956

5" Mirka Ceros Sander

-

MIM55020CAUS

$495.00
9957

6" Mirka Ceros Sander

-

MIM65020CAUS

$495.00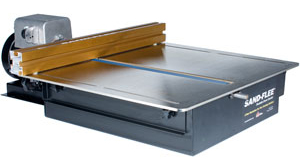 The SAND-FLEE® is a unique, patented, bench top, woodworking machine that makes sanding easy. It will save you time, improve the finished look of your projects, whether small, large, delicate or cumbersome. Why hand-sand or suffer through the constant vibration of hand held sanders when you can just slide material across a table and have it sanded at the same time?
Motor and on/off switch not included.
Features:

Covered by a 1/4" casted & milled (Jig-Plate) aluminum top, which is buffed, polished, and sealed with a protective chromate conversion coating, providing you the greatest amount of smooth-flat precision sanding. 

The unique patented design gives you direct control of the feed rate as you move the piece over the spinning drum, with NO restrictions in height. 

You can attach multiple grits side by side without having to change the set up. It can't be any simpler or faster. 

The Velcro system of attaching abrasive material is quick and convenient. No tools and no messy adhesives to deal with. 

The patented design allows you to sand at a lower temperature, significantly extending the useful life of the abrasive. You will not burn your work piece. 
The power takeoff shaft extended from the side of the cabinet, allows you to use the optional keyless chuck to attach 100's of accessories.
SAND-FLEE® Drum Sander is available in 18" width. Features a internal dust collection, with a 2-1/2" dust port. 
24" extruded aluminum T-Track fence, turning your SAND-FLEE® into an edge sander or sander/jointer. 
Add a SAND-FLEE® to your shop and see how much better sanding can be. Made in U.S.A
Item#
Description
Price
Quantity
4441

Sand-Flee® SF-1830 18" Drum Sander
Motor and Switch Not Included

$699.99

A Drill-chuck for the Sand-Flee power take-off. Allows the attachment of accessories like the Finishing Mops,Flexible Shaft and other items usable with a Drill or Drill Press

| Item# | Description | Price | Quantity |
| --- | --- | --- | --- |
| 4497 | Sand-Flee® Drum Sander 1/2" Keyless Chuck | $32.95 | |





The flex-shaft is 60" long, provides a 3/8" keyless chuck and uses a 3/16" commercial grade steel cable with ball bearings at both ends to provide smooth power transfer. It can be used with the SAND-FLEE® Portable Drum Sanders utilizing the 1/2" Keyless Chuck, a corded hand drill, a drill press or other motor. The well designed handle provides ample gripping capability and control.

| Item# | Description | Price | Quantity |
| --- | --- | --- | --- |
| 4496 | Sand-Flee® Flex Shaft | $119.95 | |




Mirka MIN6519411 industrial strength dust extraction system vacuum hose assembly made for use with the CEROS electric random orbital sander.

Mirka Ceros 13' Vacuum Hose has a 1-1/4" O.D. threaded connection for use with the CEROS tool, and a standard 2-1/4" shop vac connection.

| Item# | Description | Price | Quantity |
| --- | --- | --- | --- |
| 9958 | Mirka Ceros Dust Collection Hose | $59.99 | |





Used to extend the range 10M (33') between your Mirka CEROS (Compact Electric Random Orbit Sander) sander and the Sander transformer.

Item#
Description
Price
Quantity
9959

Mirka Ceros Sander 10M DC Extension Cord -

MIN6522511

$47.99





Mirka's pad protectors are used between the sander pad and the abrasive disc, reducing wear of the backup pad's grip hooks.

| Item# | Description | Price | Quantity |
| --- | --- | --- | --- |
| 9961 | 5" (120mm) Mirka Sanding Pad Protector - 44 Holes | $19.99 | |
| 9963 | 6" (150mm) Mirka Sanding Pad Protector - 67 Holes | $24.99 | |





Mirka's backup pads are manufactured using a top quality molded polymer construction. Each pad is balanced to eliminate vibration and provide superior finishing. 5-Inch and 6-Inch pads have a maximum operating speed of 12,000 RPM. The grip face has durable nylon hooks for use with vacuum hole patterns as well as Abranet multi-hole patterns.

Features:

For use with Abranet, a revolutionary new sanding material for dust-free sanding
Mirka pads are a top quality molded polymer construction
Mounting thread 5/16 In. -24
Hook face for use with our grip backed discs
Multi-Hole Grip Faced Abranet Vacuum Pad

Item#
Description
Price
Quantity
9960

Mirka 5" Soft Sanding Pad

-

915GV

$39.99
9962

Mirka 6" Soft Sanding Pad

-

916GV

$41.99