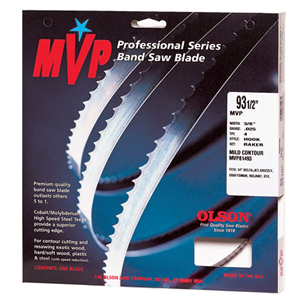 Cobalt / Molybdenum High Speed Steel Edge, Tempered Back
Olson MVP Band Saw Blades are .025 Thin Kerf bands made with high speed teeth and a special alloy back to provide superior performance and longevity.
Olson MVP Band Saw Blades Features:
Tooth Hardness: 66-68 Rc
Back Hardness: 47-51 Rc
Tooth Form: Hook
Raker Set: Left, Right, Straight Pattern
Widths: 1/4", 3/8", 1/2
Olson MVP Band Saw Blades Applications:
For contour cutting and resawing: exotic wood, hard/soft wood, plastic, steel and non-ferrous metals (with speed reduction).

For all vertical/stationary band saws, taking band lengths of 72" through 150".
Olson MVP Band Saw Blades Benefits:
Designed to outlast standard carbon blades 5:1 (wood) and 10:1 (metal).
Tough and shock resistant
Truer, straighter cuts
For the most difficult cutting operations
Cuts through nail embedded wood