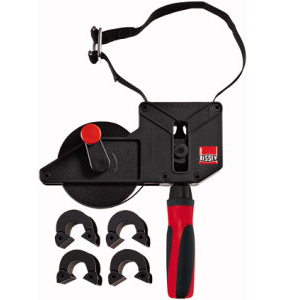 Whether you need to repair a chair, fix a frame or clamp four corners all at the same time, Bessey's Variable Angle Strap Clamp adapts to whatever situation you need.
Strap Lock — an easy-to-use mechanism for releasing and locking the strap around awkward or large assemblies.

Specially woven 23' polyester strap for up to 1,100 lbs tensile strength with minimal stretch.

Geared winder allows for precise adjustment — tightens strap evenly from both sides for distortion-free clamping.

Strap winder keeps excess strap conveniently stored on spool.

Corner clip with swivel pads clamp any angle from 60° to 180° — four clips are included with clamp.
Includes:
1 ea. Variable Band Clamp
4 ea. Vario Corner Clips