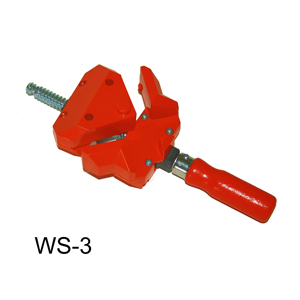 The Bessey angle clamps are designed to hold, fix and align material at right angle and automatically adjust to different wood thickness. Their accuracy makes these the clamps for a number of applications, including cabinetry, furniture assembly and their compact size makes them easy to store.
Holds and aligns material at 90°
For T joints and mitered corners
Galvanized spindle with large threads.
Accurate and super durable jaws.
Plastic coated jaws to protect wood.
Wide open design to allow room to dowel, screw,or stable material together while gluing.


WS-3
WS-6