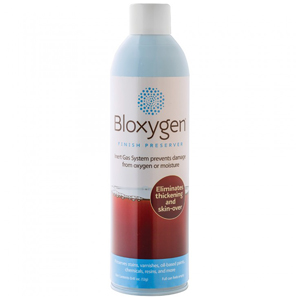 Preserve unused finishing materials!
Just spray in the can and seal.

Bloxygen uses an inert gas to drive the oxygen out of your container. Simply blow the oxygen out of your container with Bloxygen and then seal the lid. The heavy, inert Bloxygen gas sinks down to block oxygen from the liquid surface. Because Bloxygen is heavier than air, it will separate the liquid surface from any air that may remain in the container, preventing a dry skin from forming over the liquid.

Technical Details:

Recommended for oil/solvent based products.
Not for use with latex or lacquer products.
Up to 75 uses per container.
Non-flammable.
Non-toxic.
Contains argon.