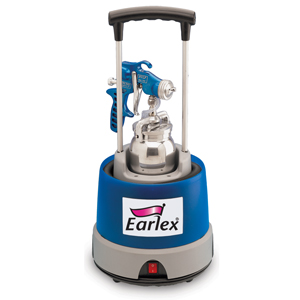 The Spray Station 5500 is a professional unit designed for light contractor, occasional maintenance, woodworker and serious DIY enthusiast. The Spray Station 5500 is ideal for use in the workshop, garden or home. Water-based and oil-based coatings can be applied with the Earlex® HV5500 Spray Station This model is supplied with onboard storage for spray gun, long carry handle for easy portability, spray gun cleaning kit and 1 quart pro-gun with PTFE-coated paint container which is easy to clean, long lasting and non-corrosive.
Technical Specifications:
650 Watt
Detachable carry handle
42 CFM/ 22 PSI
160 Din/Sec Turbine motor
Ideal for spraying walls, ceilings, doors, fences, shutters, cabinetry, spindles, iron work, sheds, decking, furniture, cars and more
1Qt. easy-to-clean Non-stick PTFE coated container with quick-release lever
13-foot air hose
5.5-foot power cord
Sprays a wide variety of materials
Sprays from 1" - 12" wide fan pattern
Fitted with variable output control
Press and twist aircap for faster spray pattern adjustment
Includes 2.0mm (0.08") stainless steel tip and needle
Optional needle sets
Fast "Push N Click" 3 spray pattern changing system
On board gun, hose and cord storage
long carry handle
Hints & Tips:
Preparation is essential - remember to mask around the areas you are not spraying.
Take the time to ensure paint viscosity is correct.
Thin paint as necessary using water or relevant thinners.
If you've never sprayed before, practice for a few minutes on a piece of cardboard to develop your technique.
Allow time for drying between coats.
Fine mists will generally dry faster than heavier coats. This will allow you to build up coats faster and there is less likelihood of runs.
Avoid spraying when windy.