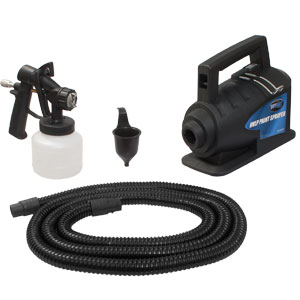 Stain, paint, shellac and more with professional result! The Summit™ HVLP Finishing Sprayer has a lightweight 400 watt motor with an easy to clean sprayer. The unit allows you to finish your work in a fraction of the time than using a typical paint brush or spray can. It's perfect for smaller finishing projects like boxes, bowls, cabinet doors, cabinet drawers and more. HVLP (High Volume Low Pressure) air flow allows you to apply your finish quicker, more evenly and without the annoying drips and the mess of standard brush, roller or sprayer.
Included in this system:
1 each spray gun

1 each paint or stain container
(holds 1 pint of paint or stain)
1 each 1mm fine spray needle
1 each 400 watt HVLP turbine motor
1 each 9 foot long hose.