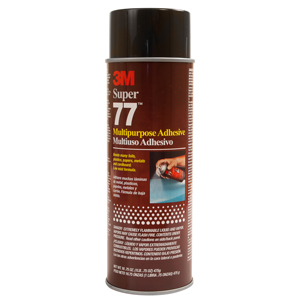 3M™ Super 77™ Multipurpose Adhesive is an extremely versatile, fast-drying adhesive that bonds a wide range of lightweight materials. Its fast, aggressive tack and low soak-in make it ideal for projects all around your home or business. It forms strong bonds with everything from paper, cardboard, fabric and cushion foam to plastic, metal, wood and much more.

If you can think it up, 3M™ Super 77™ Multipurpose Adhesive can probably glue it down.
Common Uses:
General decorating and crafts, including wreaths, silk flower arrangements, models and many other projects
Home improvement and repair projects
Attaching fiberglass insulation and drywall corner beads
Bonding thin films, foils and fabrics
Scrap booking, picture framing and mounting presentations (photo safe)

Note: item can only be shipped to addresses within the continental United States by Ground Service only.