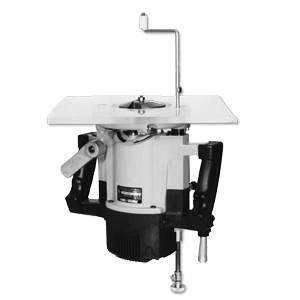 Note:
Router and base plate not included.
Permanently replace a plunge router's height rod with patented Router Raizer™ for tremendous improvements in depth adjustment during table mounted or hand held operations. 1/16" adjustments are easily made from above or below the table without giving up the router's original turret system or plunge capabilities. Compact design; weighs 8 oz. Manufactured to strict tolerances; parts plated with electroless nickel. Includes adjusting rod, speed wrench, dust cover assembly, instructions and drilling templates
Router Raizer™ 100 fits:
Craftsman 27505, 27506, 27510, 27511; DeWalt DW621, DW 625; ELU 3337, 3338, 3339; Freud FT 2000; Hitachi TR12, M12V; Makita 3612-B, 3612-C, 3612-BR; Porter-Cable 693, 6931 base, 7529, 7538, 7539 and Ryobi RE600.
Router Raizer™ 200 fits:
BOSCH 1619EVS 3-1/4HP; BOSCH 1166 Plunge Base; Fein RT1800 3-1/4HP and Makita RF1101 Plunge Base.