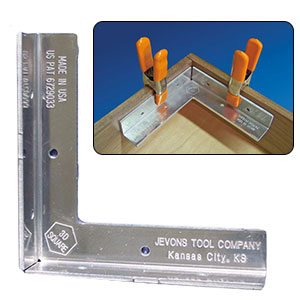 The 3D Square precisely holds assembly pieces for perfect corners! Use our 3D Square to hold the right angle of any project during assembly and glue-up or other fastening. Clamp corners of bookcases, boxes, any square project. Make your own jigs for miters, tenons, and raised panel doors.
Features:
Clamp the 3D Square directly into your projects: boxes, drawers, casework, cabinets, frames, bookcases...
The 3D Square holds the assembly for you! Your hands are free to place screws, nails, glue, etc
Precision right angles every time! Clamp the 3D Square in place to hold any 90 degree project.
Construct jigs, use as a miter guide. The 3D Square holds precise corners!
The first 3 dimensional square! And the first assembly square on the market. Stamped of 3/16th" aluminum, and machined to a tolerance of .002" along the entire 6" edges for the precision of an engineer's square at a fraction of the cost, and much more versatile! Made in the USA (in Kansas City, Kansas)