Call Toll Free 1-888-512-9069

Close Out
Close Out, Overstock & Clearance Items
Here you will find close out, overstock, clearance, returns, and open package items for sale. All close out items are sold "As Is" and No refunds. Exchanges or store credit will not be issued for these items. Any item in the close out section that is a return, open package or anything that isn't a new unopened container will be marked as such. Close Out Items do not qualify for any online or instore promotions, discounts or coupons.
Norton
Knife & Scissor Sharpener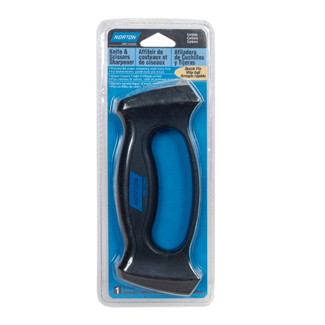 It's as simple as holding your knife / scissors on a solid flat surface with cutting edge facing up and the end of blade near handle about 1/2' to an 1" over the edge. starting near the handle place the "v" slot of the sharpener over the cutting edge. With light pressure draw the sharpener across the blade from the back to the point and continue your outward motion at the end of the stroke. Repeat the process 3 or 4 times or until the scissors / knife is sharp.
V-shaped groove sets the correct angle for pull-through sharpening of straight-edge knife blades
Scissors slots are correctly angled to make sharpening of left or right hand scissors simple
Carbide rod creates a smoother, sharper edge on dull or damaged blades
Molded plastic grip protects hand during sharpening
Compact size for portability and storage
Regular Price $13.99
Stone Mountain 46 Piece
Deluxe Woodworkers Drill Bit Set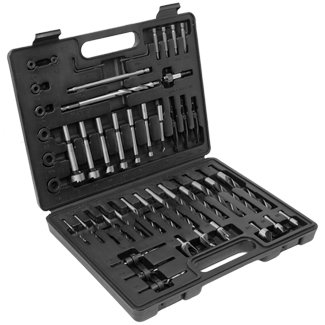 This 46 Piece Deluxe Woodworkers Drill Bit Set includes:
1 ea. Quick Release Chuck
1 ea. 3/8" Pocket Hole Drill Bit
1 ea. 6" - #2 Square Driver
2 ea. Square Drivers : PH1 - PH2
2 ea. Phillips Head Drivers: S1 -S2
3 ea. Plug Cutters: 1/4"-3/8"-1/2"
3 ea. Counter Sink Bits: 3/8"-1/2" - 3/4"
3 ea. Self Centering Bits: 7/64" - 9/64" - 11/64"
3 ea. Tapered Drill Bits:
7 Forstner Bits:

1/4", 3/8", 1/2", 5/8", 3/4", 7/8", 1"

7 Depth Stop Collars:

1/8", 3/16", 1/4", 5/16", 3/8",1/2",7/8"

13 Brad Point Bits:

1/8",5/32", 3/16"' 7/32", 1/4", 9/32", 5/16", 11/32", 3/8", 13/32", 7/16", 15/32", 1/2"


Regular Price $79.99
Jorgensen
8" Adjustable Handscrew Kit J-12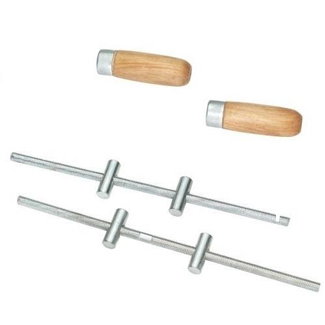 Use your scrap wood to turn this kit into a hand screw clamp. This Do-it-yourself kit provides the parts which enable you to make the clamp using any wood for the jaws. Jorgensen products are no longer available for sale due to them going out of business.
12" Jaw length
8-1/2" Jaw opening
All hardware for the Do-it-yourself kit
wood not included for jaws
Regular Price $21.99
Norton®
Diamond Stackable Bench Stone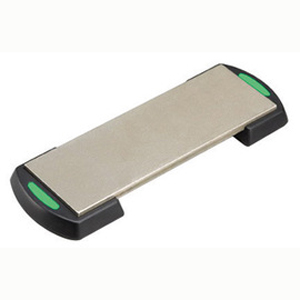 Flat, diamond surface plated onto a nickel-coated steel bar precision ground to a tolerance of .001"
Even diamond distribution; continuous diamond sharpening surface
1/4" x 2" x 6"
600 Grit / Fine
Stackable; the stones firmly stack on top of each other
Non-skid rubber base


Regular Price $59.99
Now Only! $32.99
(7 Left)
Preval 50 Feet of ENERGY
(Portable Compressor Unit)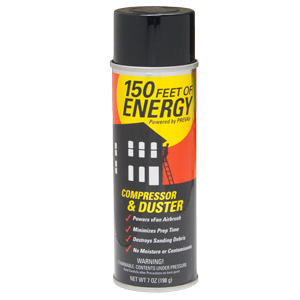 Specification:
Pressure Regulator is sold separately
Get 5x the spray time with our Energy Disbursement Unit, sold separately
Threaded valve for securing the pressure regulator valve to spray can.
Made in the USA



Regular Price $6.50
Fine Woodworking DVD-ROM
2013 Annual Collection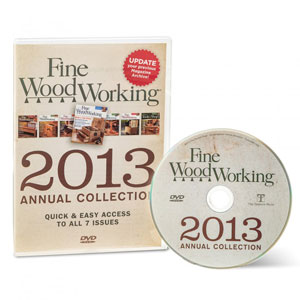 The annual Fine Woodworking DVD-ROM is a time-saver, a space-saver, and a cinch to use. In one thin disc, you get all seven issues of Fine Woodworking from the year 2013. Since it's easily searchable, you'll be able to quickly pull up the article right when you have want them.
NOTE: This is a DVD-ROM meant for viewing on a home computer, not a video.
Regular Price $32.95
Mortising Chisel
Sharpening Kit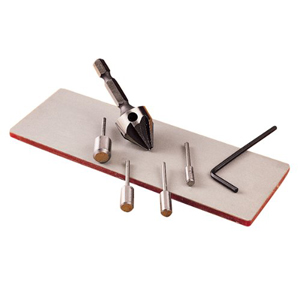 Fits most import mortising chisels. Sharpens mortising chisels in seconds! Includes Diamond plate to remove burr after sharpening.
Sharpens (1/4", 5/16", 3/8", 1/2") mortise chisels
Regular Price $36.99
Now Only
$26.99
(18 Left)
FastCap
MyGrip - Black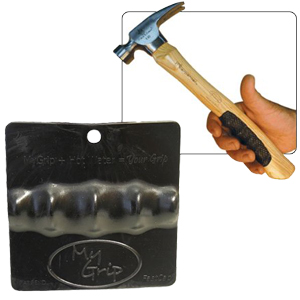 My Grip is an innovative tool that gives you the ultimate comfort grip on your hand tools. The unique material of the My Grip enables it to be remolded over and over again. Imagine having your custom formed grip!
Regular Price $19.99
48"
Miter Fence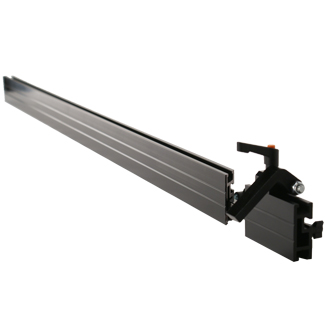 Single Miter Fence Includes:
1 ea. 48" adjustable to 76" Aluminum Miter Fence
1 ea. Stop Block for the repetitive cuts
2 ea. Knobs and Bolts for easy mounting on and off your various tools.
Miter Fence Pack Includes:
2 ea. 48" adjustable to 76" Aluminum Miter Fence
2 ea. Stop Block for the repetitive cuts
4 ea. Knobs and Bolts for easy mounting on and off your various tools.


Regular Price $99.99
Single Only
$79.99
(7 Left)
Regular Price $198.99
2 Pack Only
$149.99
(3 Left)
Porter Cable
NO. 10 Biscuits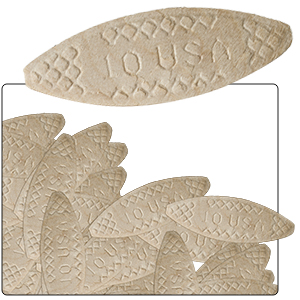 The Porter-Cable 5552 20 x 52 millimeter No. 10 Biscuits make wood joints as strong as possible by swelling up when exposed to water-based glues. These useful 5/32 inch pieces of compressed beech wood will fit slots cut by any standard plate joiner.
Specifications:
Only 5/32 inches thick; fits standard plate joiner slots
Made of high-quality compressed beech wood for stability, strength, and fit
Each biscuit measures 25/32 x 2-3/64 x 5-32 inches (WxHxD)
Regular Price $9.99
Single Only
$7.99
(35 Left)
Regular Price $35.99
1000 Piece Only
$20.99
(17 Left)
Extendable Large
Dovetail Jig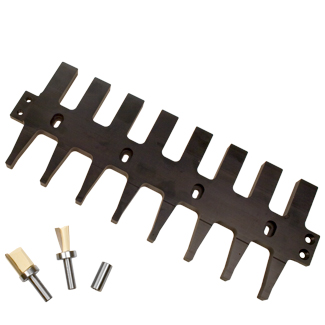 The Extendable Large Dovetail system takes a simple approach to making beautiful thru-dovetail's, a hallmark of fine craftsmanship. The hardest part about cutting dovetails is marking and cutting the matching angles to one another. That's what makes this system so easy. We have done the math for you and milled the exact cuts that need to be made in this heavy duty and easy to use jig. Because the bearing is already centered on the bit it makes setting up the cut for the joint fast and easy. For stock 3/4" to 1" thick.

Includes:
1 ea.15" Large Aluminum Dovetail Jig
1 ea. 7° Dovetail Bit
1 ea. Flushtrim Bit
3/8" Sleeve Adapter
Instruction Manual
Hardware
Regular Price $169.99
Now Only
$99.99
(14 Left)
Preval
Energy Disbursement Unit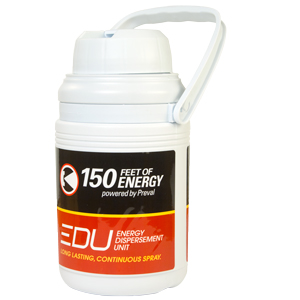 If you need more than a quick touch-up, you will be impressed with our EDU. This container clips to your belt , the EDU system insulates the 150 Feet of ENERGY unit at a consistent temperature to deliver a longer lasting, more continuous spray. Gives you five times the spray duration with the 150 Feet of ENERGY.
The Preval Energy Disbursement Unit (EDU) is patent pending process delivering long lasting, continuous spray from each 150 Feet of ENERGY unit by increasing the liquid mass of each pressurized can.
The way it works is simple: just fill half the EDU with room temperature water, feed the air hose through the lid and place the 150 Feet of ENERGY unit inside, turned on, secure the lid. When the job is done, take the 150 Feet of ENERGY out of the EDU.
Regular Price $19.99