Call Toll Free 1-888-512-9069

Gwinnett Woodworkers Association
---

GWA
We are proud to have the Gwinnett Woodworks Association meet here at
Peachtree Woodworking Supply, come join the fun!
GWA Saturday meetings and Turners group meetings
Every Saturday Morning 8:00 to 9:30 (except holidays and special events)
To learn more about The Gwinnett Woodworks Association, please visit their website at: http://gwinnettwoodworkers.com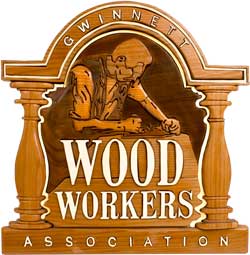 Located in Gwinnett County, Georgia, just northeast of Atlanta, the Gwinnett Woodworkers Association (GWA) is a group of amateur and professional woodworkers composed of men and women, doctors, lawyers, preachers, artists, engineers, photographers, students, school teachers, college graduates, expertly trained people of all race, color and creed, as well as retirees and hardworking individuals who labor in the market place ... to say nothing of the skills of individual members. Whether you want to build a lake house or a dog house, if you want to build the grandson a wooden truck or build the dear spouse an heirloom jewelery chest, if you want to buy a new table saw or patch up the old bench saw - We Can Help You or We Know Someone Who Can. We are woodworkers, woodturners, scroll sawyers, carvers, painters, contractors and more. If it involves wood then we know about it, we want to learn more about it, and we'll be happy to teach you about it too.
We meet every Saturday morning to share ideas, improve our woodworking skills, and have fun. Meetings include demonstrations, lectures, hands-on sessions, and seminars teaching how to build furniture, crafts, gift items, and many other types of woodworking projects. The GWA is also chapter 192 of the American Association of Woodturners .
Within our club structure are three Special Interest Groups (SIG's)
The Scroll Saw SIG
The Woodturners SIG - American Association of Woodturners Chapter 192
The Computer Users SIG
The SIGs meet separately from GWA and specialize in those particular woodworking disciplines. See the section dedicated to each SIG for meeting times, and locations.
The regular GWA meetings combined with the SIG meetings gives our membership over 100 educational events throughout the year. Please consider attending a Saturday meeting as a guest.
Please note that SIG meetings at member shops are restricted to members only for security reasons.
1