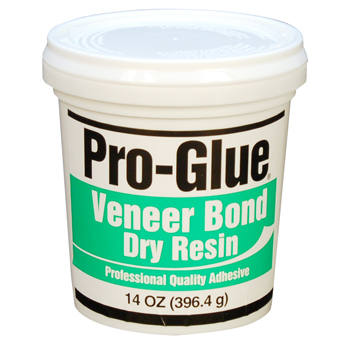 Applications:
Veneer Laminating
Vacuum forming
Vacuum laminating
Wood forming
Wood laminating
Wood veneering
forming of curved components,
gluing paper backed veneer
forming metal overlay products
PRO-GLUE VENEER BOND DRY UREA RESIN WOOD ADHESIVE: This wood glue is a modified pre-catalyzed dry powder urea resin that is prepared by mixing the powder into water. Once cured, it creates an extremely tough, rigid and waterproof glue line, and it is considered one of the choice type of wood laminating adhesives for laminating wood veneers, both exotic or domestic veneer plywood in most manufacturing plants across the Americas and Canada. Among the many benefits of PRO-GLUE Veneer Bond Wood Adhesive is a cured rigid glue line that can be easily machined without "gumming up" the tools or sandpaper, a hard glue line minimizes "spring back" when laminating curved wood components together, and it can be colored or blended with the light urea resin to make glue lamination lines virtually disappear. An important characteristic to consider with PRO-GLUE Veneer Bond Wood Adhesive – There are no solvents added, it is EPA compliant for low formaldehyde emissions, has no odor and is ideal for use on woodworking projects in homes, businesses in enclosed areas such as aircraft, yachts or closets where any residual gasses or smell would be objectionable. The glue will cure between 70° and 120° F, but the best cure occurs at 85° to 95° F (Use a simple bed heating blanket if needed). Coverage is approximately 8 sq/ft. per cup of dry resin powder before mixing into water. Use a respirator protection when mixing the fine powder into the water.
General Performance Guides:
70° F- Pot Life: 3 hrs, Open time before clamping; 20 min, Clamp time; 12 hrs

80° F- Pot Life:1.5 hrs, Open time before clamping; 15 min, Clamp time; 8 hrs

90° F- Pot Life: 30 min, Open time before clamping; 8 min, Clamp time; 5 hrs NOTE: Allow 24 hours for complete cure.