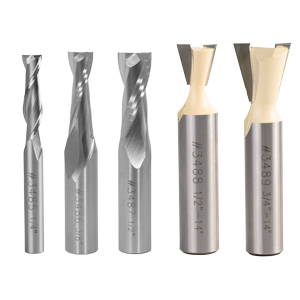 Standard Router Bits Showing in image
These are both our standard router Bits and Freud® Comparison Router Bits. Even though are router bits give you long life and smooth cuts, they don't compare to freuds micro grain carbide bits with 10 times more life than any standard bit.
Listed below are Freud® Solid Carbide Up-Cut Spiral Bits combined effective chip removal with a cut that can't be matched by standard straight bits. The dovetail bits produce a smooth intracate cuts. Both style bits are perfect for the Muli-Joint™. The Freud® Router Bits listed are just an upgrade for the standard Multi-Joint Bits. Giving you better and longer cuts.