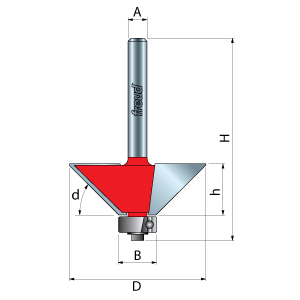 Application:
For multiple-sided projects, joinery, and easing edges. Creates a uniform chamfer on the edge of any work piece to add character, while retaining crisp geometric lines. #40-094 makes 16-sided pieces and #40-098 makes 12-sided pieces.

Features:
Chamfer sizes easily adjust by changing height of bit.

Cuts all composite materials, plywood, hardwood, and soft wood.

Use one hand-held and table mounted prtable routers.