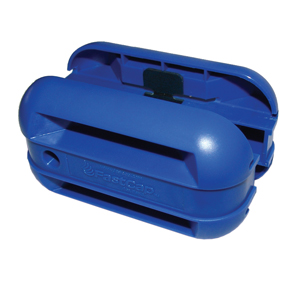 With four carbon steel cutting edges in just one tool, FastCap's Quad Trimmer is capable of trimming both edges at once, and does so with either a pushing or pulling motion. The trimmer also easily pulls apart so you can trim one edge at a time, which means you can follow the direction of the grain to minimize tear-out if your edge banding has difficult grain. The two halves of the Quad Trimmer are held together by the friction of two O-rings, which also create a pneumatic spring action. This means there are no metal springs to get lost or broken. Made in USA.
Details:
No springs - all pneumatic.
Cuts both faces in one pass.
Cuts in both directions.
Comfortable ergonomic design.
Carbon steel blades hold an extremely sharp edge.
Blades are easily replaced with a Phillips screwdriver.
Trims veneers and edge banding for materials from 1/2" to 1-1/4" thick in double-edge mode.
Trims materials of infinite width when used in single-edge mode.
Color may vary.