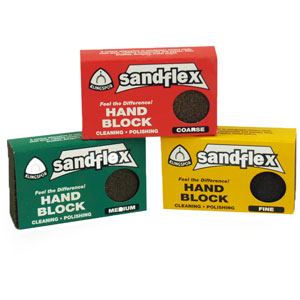 These Blocks are a Solid Block of Grit. Simply use the block like an eraser, rubbing firmly on surface. Can be used wet or dry. Not recommended for plated or painted surfaces. Test on inconspicuous area before use. Non-Toxic.

Choose from 3 grits: Coarse, Medium & Fine.


Popular uses include:
Clean rust from tools and unfinished metals
Remove rust from out door equipment
Clean stainless steel sinks, pots and pans.
Restore nap to suede
Clean electrical contacts
Remove mineral deposits from ceramic tile and toilets.
Clean tires and rubber products.