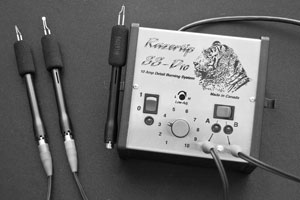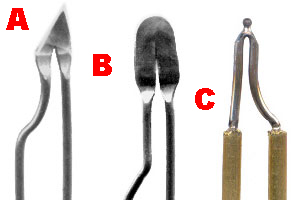 Tip Details For Pens Included
Power to Fire Your Imagination
The SS-D10 is Razertip's workhorse, with many features not found on any other burner. Dual handpiece capability allows you to have 2 pens plugged in at the same time and change between them at the flick of a switch. This is particularly useful if your work calls for frequent handpiece changes as it saves time as well as wear on the connectors. The SS-D10's extra low-end temperature adjustment allows you to turn the heat down further if the "1" setting is still too hot. If you are sculpting wax or detailing plastics, you will love the extra range available on the low end of the SS-D10.
With this Razertip Starter Package you get 3 of the most useful pens for beginner projects.
(A) 1 ea. Small Skew Tipped Pen (sharp edge) - General use tip for pyrography, cutting, fine detail. A very versatile tip, especially for small work.
(B) 1 ea. Small Round Shader - Popular for general shading applications, round shaders excel at shading where outer margins are concave (like the inside of a circle or eye). Also popular for shading using circular motions on the surface.
(C) 1 ea .8mm (1/32") Ball Tip - Steel ball on tip end is great for shading, burnishing, or drawing. Holds heat extremely well for more consistent burns.

Included with the Starter Set:
1 Razertip SS-D10 Dual pen woodburning unit
2 Heavy duty cords
Three Standard Pens
(A) 1 small skew (sharp edge)
(B) 1 small round shader
(C) 1 .8mm (1/32") ball tip