Call Toll Free 1-888-512-9069

Finishing
---
Tinting / Colorants

Tints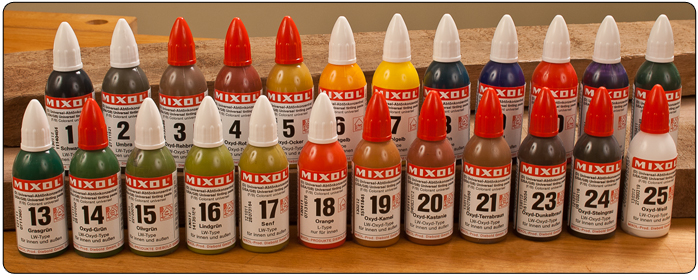 Mixol offers the highest quality universal tints on the market. Mixol is compatible with almost any paint and coating. The full assortment of colors mixes easily with shellacs, lacquers, primers and fillers. Mixol is known for its high concentration of pigment, sophisticated color palette, and ease of mixing. They are highly resistant to frost and heat damage. They have an indefinite shelf life, and because they are binder-free, they will not dry out or thicken.
Click Here for Tips
California Residents:

WARNING:
Cancer and Reproductive Harm - www.P65Warnings.ca.gov.
20 ml Bottles
Item#
Color
Description
Price
Quantity
20750
#1 Black Mixol
$5.99
20751
#2 Umber Mixol
$5.99
20752
#3 Brown Mixol
$5.99
20753
#4 Oxide Red
$5.99
20754
#5 Oxide Yellow
$5.99
20755
#6 Maize Yellow
$5.99
20756
#7 Canary Yellow
$5.99
20757
#8 Green Mixol
$5.99
20758
#9 Blue Mixol
$5.99
20759
#10 Red
$5.99
Temporarily
Out of Stock
20760
#11 Violet
$5.99
20761
#12 Fir Green
$5.99
20762
#13 Grass Green
$5.99
20763
#14 Oxide Green
$5.99
20764
#15 OLive Green
$5.99
20765
#16 Lime Green
$5.99
20766
#17 Mustard
$5.99
20767
#18 Orange
$5.99
20768
#19 Camel Mixol
$5.99
20769
#20 Oxide Chestnut
$5.99
20770
#21 Oxide Terra Brown
$5.99
20771
#23 Oxide Dark Brown
$5.99
20772
#24 Oxide Stone Gray
$5.99
20773
#25 Oxide White Gray
$5.99




Mr. Cornwall's Creative Colours are 100% pure finely ground pigments created especially for the Artisan, Craftsman and Master. These pigments can be mixed with all of the Odie's finishes to create decorative finishes, man-made patinas, and color-matched protective finishes for furniture and floors. Blend the colors together to create custom colors.


›See more product details and video





25 different colors available in 9 oz (255g) jars




Item#
Color
22078
Ultramarine Blue CCUBL - 9 oz Jar

Item#
Color
22074
Black CCBLK - 9 oz Jar

Item#
Color
22075
Titanium White CCWHT - 9 oz Jar

Item#
Color
22076
Red CCRED - 9 oz Jar

Item#
Color
22077
Yellow CCYEL - 9 oz Jar

Item#
Color
22079
Green CCGRN - 9 oz Jar

Item#
Color
22080
Chocolate Lab CCCHO - 9 oz Jar

Item#
Color
22081
Buffalo Brown CCBB - 9 oz Jar

Item#
Color
22082
Port Wine CCPW - 9 oz Jar

Item#
Color
22083
Russet Red CCRR - 9 oz Jar

Item#
Color
22084
Aged Bronze CCAB - 9 oz Jar

Item#
Color
22085
Citrus CCCTR - 9 oz Jar

Item#
Color
22086
Brick CCBRK - 9 oz Jar

Item#
Color
22087
Coffee CCCF - 9 oz Jar

Item#
Color
22088
Espresso CCESP - 9 oz Jar

Item#
Color
22089
Walnut CCWLT - 9 oz Jar

Item#
Color
22099
Burnt Ochre CCBO - 9 oz Jar

Item#
Color
22091
All the Greige CCAG - 9 oz Jar

Item#
Color
22092
Cane CCCA - 9 oz Jar

Item#
Color
22093
Chowda CCCW - 9 oz Jar

Item#
Color
22094
Chestnut CCCN - 9 oz Jar

Item#
Color
22096
Terracotta CCTC - 9 oz Jar

Item#
Color
22097
Georgia Peach CCGP - 9 oz Jar

Item#
Color
22098
Southern Pecan CCSP - 9 oz Jar

Item#
Color
22100
Up In Smoke CCUS - 9 oz Jar